Buy and Sell in and around Manchester Powered by
Waxbill, parrot finch, silverbill wanted
in Manchester, Lancashire
Advertised by Scarlett, a Preloved member since March 2018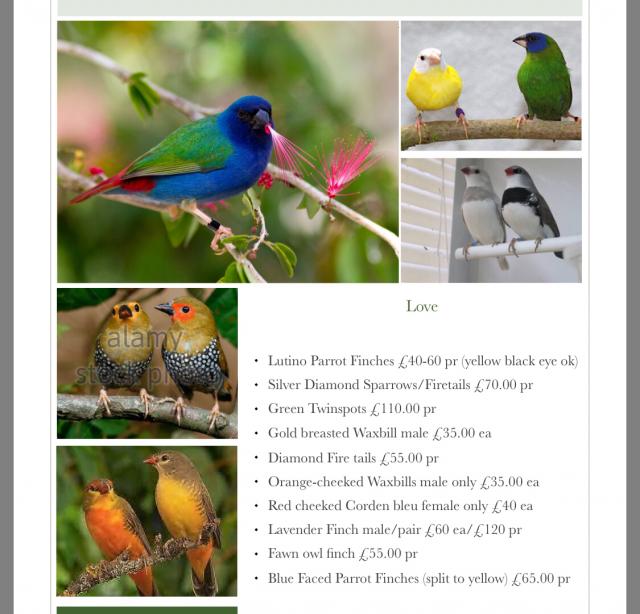 Advert

Details
Item

Price

£500
Advert

Description

Hi I'm recently look for these birds on the picture, my budget price has been listed as well, the price can be negotiated but I hope to do a job lot. any info will be much appreciated and delivery service is preferred.
Lutino Parrot Finches £40-60 pr (yellow black eye ok)
Silver Diamond Sparrows/Firetails £70.00 pr
Green Twinspots £110.00 pr
Gold breasted Waxbill male £35.00 ea
Diamond Fire tails £55.00 pr
Orange-cheeked Waxbills male only £35.00 ea
Red cheeked Corden bleu female only £40 ea
Lavender Finch male/pair £60 ea/£120 pr
Fawn owl finch £55.00 pr
Blue Faced Parrot Finches (split to yellow) £65.00 pr
Cash waiting, much appreciated for your attention.