Buy and Sell in and around Manchester Powered by
LAST TWO!!! Best.Of.The.Best British Bulldog Puppies
in Ashton-u-lyne, Tameside
Advertised by BBD, a Preloved member since July 2018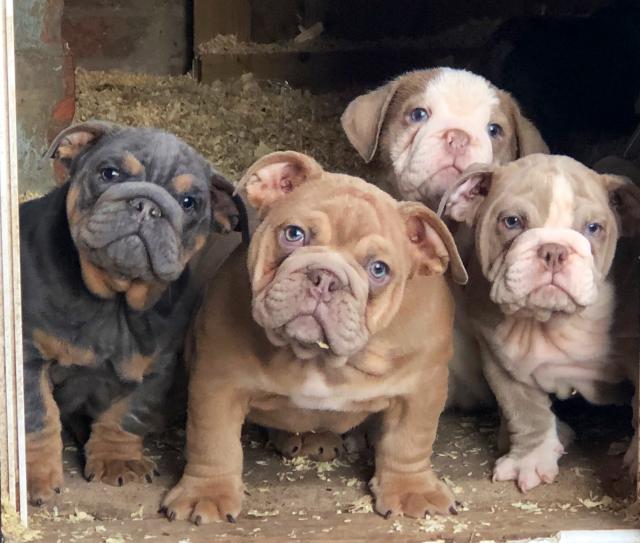 Advert

Details
Item

Price

£2,495

Breed

British Bulldog

Sex

Male

Current Age

3 months

Ready to Leave

at 8 weeks

Can be Viewed With

Mother

Kennel Club Registered

Yes - Breed Register

Microchipped

Yes

Neutered

No

Licensed breeder

No
Advert

Description

Best.Of.The.Best is proud to introduce;
Percy is a full suited lilac with a white triangle between his big blue eyes and white paws. Percy has a thick set and a big head with plenty of wrinkle, he is short and compact as well as short in length. He is a very laid back pup, but comes when you squeak to him.
Donald is the biggest puppy in the litter; he has a lilac back and white chest, his face is white with lilac patches and beautiful big blue eyes. He has a very thick set and very big head with lots of rope. Donald is a laid back pup, but can still be an assertive nosey puppy when the opportunity arises.
Colin is a lilac fawn with a white chest and light tan points which are becoming more visible every day. His face is mostly lilac fawn, with a white patch which runs down the centre between his remarkable blue eyes down to his neck. Colin has a thick set and a big head with lots of rope. Colin is a spirited animated puppy who absolutely loves his food as well as a good play.
Sired by MR UK; one of the best pedigrees in the world, his father is Ace the Face himself who is the producer of some of the best rare coloured bulldogs in the world.
Nora is our Dam, a full suited, blue, short, compact, with a big rope. Nora is a very good natured girl, living in a family home with children. Nora is calm, obedient, playful, loyal, and a brilliant mother for her first litter.
The litter is currently living in the family home, so all our puppies are used to children and associated noises.
Puppies come with;
? Full health check
? KC Registered
? Flea and wormed
? Microchipped
? 6 weeks free insurance
? Vaccinations
? A lifetime of advice, care and support whenever needed.
This is an amazing opportunity and price for such quality bulldogs. They will be ready for their new homes at the beginning of December but can stay with us a bit until they are 10-11 weeks if needed!!
Eddie – Full suited Blue with Tan points - SOLD
Percy – Full Lilac with touch of white on face - £2495
Blue – Full suited Blue - SOLD
Major – Full suited Blue with Tan points – SOLD
Donald – Lilac and White - £2495
Lilly – Fully Suited Lilac Fawn with tan points and touch of white – SOLD
Colin – Lilac Fawn and White with Tan points - SOLD
Deposit £495 will secure a puppy of your choice, please call or WhatsApp if you have any questions and for amazing pictures and videos!!