Buy and Sell in and around Manchester Powered by
5* Stunning F1b Miniature Labradoodles
in Manchester, Lancashire
Advertised by WorsleyLabradoodles, a Preloved member since December 2018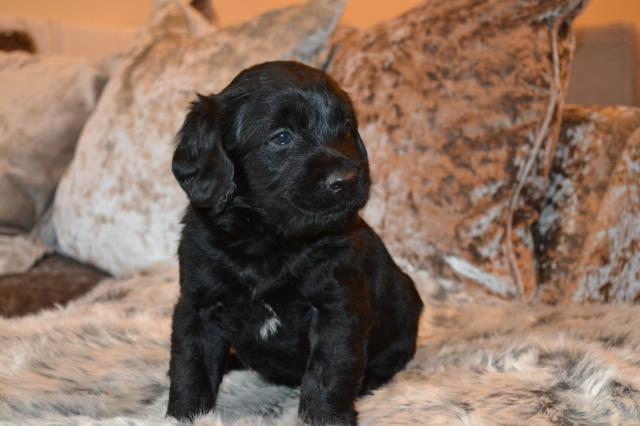 Advert

Details
Item

Price

£1,200

Breed

Miniature Labradoodle

Sex

Mixed Litter

Current Age

6 weeks

Ready to Leave

at 8 weeks

Can be Viewed With

Mother

Kennel Club Registered

Yes - Breed Register

Microchipped

Yes

Neutered

No

Vaccinations

Yes 1st Vaccination

Health Checks

Health Guarantee

Licensed breeder

No

More Details
Advert

Description

We are extremely excited and proud of our litter of Chunky Miniature F1b Labradoodles. Ready 22nd of February.
Our puppies have been carefully bred from stunning, Health tested parents. Mum is here for you to view with her babies. Sire ( Miniature Red Poodle )
highly selected based on Health and Temperament and stunning looks!. BOTH parents are fully health tested. Mum is extensively eye tested Clear, Dad is also extensively Eye tested clear:- Progressive Retinal Atrophy (prcd-PRA)
Familial Nephropathy (FN) Von Willebrand Desease (vWD-1) Macrothrombocytopenia (MTC-D) Malignant Hypothermia (MH) Which means your puppy will never develop any horrible eye conditions or have hip displacement. Being small family based means we can put all our efforts into the litter and love and adore each puppy.
Carefully handled each day to ensure confident and happy puppies, they will be use to all household noises and children. We are based in a small village called Worsley in Greater Manchester it has easy access to the motorway links. All our Puppies are ;
* Fleece Coat / Wavy Fleece
* 1st Vaccinations
* Vet Checked & Health Guarantee
* Micro-Chipped
* Wormed - with Panacur 10%
* 4 weeks Insurance
* Sales Contract
* Development Puppy Pack
* Diet Information
* Exercise Information
* Flea treated as prevention
* Toilet Trained to paper/ pads
* Puppy Starter Food & Advice
* Blanket that smells of mum, this makes it easier for your puppy to settle
* Life time of Help and Support is available always They will be use to all the household noises and children playing which you expect in a family home. This provides them with all the basic skills for their new homes.
By collection at 8 weeks they will be sleeping through the night and toilet trained to paper/ pads. They will have been extensively wormed from 2 weeks of age. Had first vaccinations , documents will be provided so you can book in at your vets for the 2nd / 3rd as some vets now offer further treatments. All details are provided in your personalised puppy pack with details of each step of achievement your puppy has made.
We absolutely adore each and every puppy and we are looking for the very best of homes for them with much love throughout their lives. We are Family based within the Greater Manchester Area we breed F1 & F1B Miniature Labradoodles. We are classed as a hobby breeder having 1-2 litters per year. We do not have kennels, our babies are brought up in our home and given much love from the moment they are born and thrive being in a bustling family home environment. We do have many years of experience with the breed and happy to answer any questions you may have.
Having been brought up with Horses, Labradors & Cocker Spaniels. I have always been a real animal lover and now have a passion to promote the holistic benefits of pets as therapy, especially keen to create awareness of the benefits for Autistic Children. I have bred puppies that have gone on to win at show level, Pets for Therapy, Agility Training & Foundation Trained Therapy Puppies for Schools & Families throughout the UK.
*********We have a viewings weekend 9th and 10th of February should you wish to come and visit us you are most welcome. I will be able to introduce you to mum and her puppies and provide you with lots of information and answer questions that you may have. Puppies are ready for new homes at 8weeks of age ( 22nd of February ).